Akhmatova, Anna
|
Arabian Nights
|
Arp, Jean Hans
|
Attar
|
Atwood, Margaret
|
Baba Tahir Oryan of Hamadan
|
Baudelaire, Charles
|
Behramoglu, Ataol
|
Blake, William
|
Brecht, Bertolt
|
Breton, André
|
Byron, Gordon George (Lord)
|
Carroll, Lewis
|
C'hang Ling, Wan
|
Chen, Yuan
|
Clough, Arthur Hugh
|
Coleridge, Samuel Taylor
|
Confucius
|
Cosbuc, George
|
Cummings, Edward Estlin
|
Dario, Ruben
|
De Cleyre, Voltairine
|
De Vere, Aubrey
|
Dickinson, Emily
|
Donne, John
|
Eluard, Paul
|
Emerson, Ralph Waldo
|
Emre, Yunus
|
Faiz, Faiz Ahmed
|
Farrokhzad, Forough
|
Ferdowsi
|
Gay, John
|
Gibran, Khalil
|
Ginsberg, Allen
|
Goethe, Johann Wolfgang von
|
Hafiz
|
Herrick, Robert
|
Hikmet, Nazim
|
Homer
|
Hughes, Langston
|
Hung, Han
|
Jamal, Mo
|
Jones, LeRoi
|
Keats, John
|
Kipling, Rudyard
|
Kushrau, Amir
|
Lawson, Henry
|
Lennon, John
|
Levertov, Denise
|
Lindsay, Vachel
|
Mayakovsky, Vladimir
|
Milligan, Spike
|
Mistral, Gabriela
|
Morrisson, Jim
|
Neruda, Pablo
|
O'Shaughnessy, Arthur
|
Parker, Dorothy
|
Paterson, Andrew Barton "Banjo"
|
Paz, Octavio
|
Plath, Sylvia
|
Poe, Edgar Allen
|
Pope, Alexander
|
Rilke, Rainer Maria
|
Rumi, Djalal-ud-Din
|
Saales, Akhavan
|
Scott, F.R.
|
Sepehri, Sohrab
|
Shakespeare, William
|
Shamlu, Ahmad
|
Shelley, Percy Bysshe
|
Sheridan, Richard B.
|
Tennyson, Alfred
|
Thomas, Dylan
|
Turold
|
Veli Kanik, Ohran
|
Whitman, Walt
|
Wilde, Oscar
|
Williams, William Carlos
|
Wordsworth, William
|
Yeats, William Butler
|
Yushij, Nima

Paterson, Andrew Barton "Banjo"

Waltzing Matilda
Oh, there once was a swagman camped in the billabong,
Under the shade of a coolibah tree,
And he sang as he looked at the old billy boiling,
Who'll come a-waltzing Matilda with me?
Chorus
Who'll come a-waltzing Matilda my darling,
Who'll come a-waltzing Matilda with me?
Waltzing Matilda and leading a waterbag,
Who'll come a-waltzing Matilda with me?
Down came the jumbuck to drink at the water-hole,
Up jumped the swagman and grabbed him with glee,
And he sang as he put him away in his tucker-bag,
You'll come a-waltzing Matilda with me.
Up came the Squatter a-ridding his thoroughbred,
Up came Policemen - one, two and three,
Whose is that jumbuck you've got in the tucker-bag,
You'll come a-waltzing Matilda with me.
The swagman he up and he jumped in the water-hole,
Drowning himself by the coolibah tree,
And his ghost may be heard as it sings by the billabong,
Who'll come a-waltzing Matilda with me?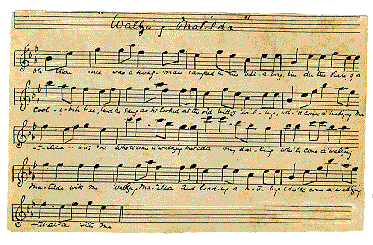 Mulga Bill's Bicycle
'Twas Mulga Bill, from Eaglehawk, that caught the cycling craze;
He turned away the good old horse that served him many days;
He dressed himself in cycling clothes, resplendent to be seen;
He hurried off to town and bought a shining new machine;
And as he wheeled it through the door, with air of lordly pride,
The grinning shop assistant said, "Excuse me, can you ride?"
"See here, young man," said Mulga Bill, "from Walgett to the sea,
From Conroy's Gap to Castlereagh, there's none can ride like me.
I'm good all round at everything, as everybody knows,
Although I'm not the one to talk - I hate a man that blows.
But riding is my special gift, my chiefest, sole delight;
Just ask a wild duck can it swim, a wildcat can it fight.
There's nothing clothed in hair or hide, or built of flesh or steel,
There's nothing walks or jumps, or runs, on axle, hoof, or wheel,
But what I'll sit, while hide will hold and girths and straps are tight:
I'll ride this here two-wheeled concern right straight away at sight."
'Twas Mulga Bill, from Eaglehawk, that sought his own abode,
That perched above the Dead Man's Creek, beside the mountain road.
He turned the cycle down the hill and mounted for the fray,
But ere he'd gone a dozen yards it bolted clean away.
It left the track, and through the trees, just like a silver streak,
It whistled down the awful slope towards the Dead Man's Creek.
It shaved a stump by half an inch, it dodged a big white-box:
The very wallaroos in fright went scrambling up the rocks,
The wombats hiding in their caves dug deeper underground,
As Mulga Bill, as white as chalk, sat tight to every bound.
It struck a stone and gave a spring that cleared a fallen tree,
It raced beside a precipice as close as close could be;
And then as Mulga Bill let out one last despairing shriek
It made a leap of twenty feet into the Dead Man's Creek.
'Twas Mulga Bill from Eaglehawk, that slowly swam ashore:
He said, "I've had some narrer shaves and lively rides before;
I've rode a wild bull round a yard to win a five-pound bet,
But this was the most awful ride that I've encountered yet.
I'll give that two-wheeled outlaw best; It's shaken all my nerve
To feel it whistle through the air and plunge and buck and swerve.
It's safe at rest in Dead Man's Creek, we'll leave it lying still;
A horse's back is good enough henceforth for Mulga Bill."
The Man from Snowy River
There was movement at the station, for the word had passed around
That the colt from old Regret had got away,
And had joined the wild bush horses - he was worth a thousand pound,
So all the cracks had gathered to the fray.
All the tried and noted riders from the stations near and far
Had mustered at the homestead overnight,
For the bushmen love hard riding where the wild bush horses are,
And the stock-horse snuffs the battle with delight.
There was Harrison, who made his pile when Pardon won the cup,
The old man with his hair as white as snow;
But few could ride beside him when his blood was fairly up-
He would go wherever horse and man could go.
And Clancy of the Overflow came down to lend a hand,
No better horseman ever held the reins;
For never horse could throw him while the saddle girths would stand,
He learnt to ride while droving on the plains.
And one was there, a stripling on a small and weedy beast,
He was something like a racehorse undersized,
With a touch of Timor pony - three parts thoroughbred at least -
And such as are by mountain horsemen prized.
He was hard and tough and wiry - just the sort that won't say die -
There was courage in his quick impatient tread;
And he bore the badge of gameness in his bright and fiery eye,
And the proud and lofty carriage of his head.
But so slight and weedy, one would doubt his power to stay,
And the old man said, "That horse will never do
For a long and tiring gallop-lad, you'd better stop away,
Those hills are far too rough for such as you."
So he waited sad and wistful - only Clancy stood his friend -
"I think we ought to let him come," he said;
"I warrant he'll be with us when he's wanted at the end,
For both his horse and he are mountain bred."
"He hails from Snowy River, up by Kosciusko's side,
Where the hills are twice as steep and twice as rough,
Where a horse's hoofs strike firelight from the flint stones every stride,
The man that holds his own is good enough.
And the Snowy River riders on the mountains make their home,
Where the river runs those giant hills between;
I have seen full many horsemen since I first commenced to roam,
But nowhere yet such horsemen have I seen."
So he went - they found the horses by the big mimosa clump -
They raced away towards the mountain's brow,
And the old man gave his orders, "Boys, go at them from the jump,
No use to try for fancy riding now.
And, Clancy, you must wheel them, try and wheel them to the right.
Ride boldly, lad, and never fear the spills,
For never yet was rider that could keep the mob in sight,
If once they gain the shelter of those hills."
So Clancy rode to wheel them - he was racing on the wing
Where the best and boldest riders take their place,
And he raced his stockhorse past them, and he made the ranges ring
With stockwhip, as he met them face to face.
Then they halted for a moment, while he swung the dreaded lash,
But they saw their well-loved mountain full in view,
And they charged beneath the stockwhip with a sharp and sudden dash,
And off into the mountain scrub they flew.
Then fast the horsemen followed, where the gorges deep and black
Resounded to the thunder of their tread,
And the stockwhips woke the echoes, and they fiercely answered back
From cliffs and crags that beetled overhead.
And upward, ever upward, the wild horses held their sway,
Were mountain ash and kurrajong grew wide;
And the old man muttered fiercely, "We may bid the mob good day,
No man can hold them down the other side."
When they reached the mountain's summit, even Clancy took a pull,
It well might make the boldest hold their breath,
The wild hop scrub grew thickly, and the hidden ground was full
Of wombat holes, and any slip was death.
But the man from Snowy River let the pony have his head,
And he swung his stockwhip round and gave a cheer,
And he raced him down the mountain like a torrent down its bed,
While the others stood and watched in very fear.
He sent the flint stones flying, but the pony kept his feet,
He cleared the fallen timbers in his stride,
And the man from Snowy River never shifted in his seat -
It was grand to see that mountain horseman ride.
Through the stringybarks and saplings, on the rough and broken ground,
Down the hillside at a racing pace he went;
And he never drew the bridle till he landed safe and sound,
At the bottom of that terrible descent.
He was right among the horses as they climbed the further hill
And the watchers on the mountain standing mute,
Saw him ply the stockwhip fiercely, he was right among them still,
As he raced across the clearing in pursuit.
Then they lost him for a moment, where two mountain gullies met
In the ranges, but a final glimpse reveals
On a dim and distant hillside the wild horses racing yet,
With the man from Snowy River at their heels.
And he ran them single-handed till their sides were white with foam.
He followed like a bloodhound in their track,
Till they halted cowed and beaten, then he turned their heads for home,
And alone and unassisted brought them back.
But his hardy mountain pony he could scarcely raise a trot,
He was blood from hip to shoulder from the spur;
But his pluck was still undaunted, and his courage fiery hot,
For never yet was mountain horse a cur.
And down by Kosciusko, where the pine-clad ridges raise
Their torn and rugged battlements on high,
Where the air is clear as crystal, and the white stars fairly blaze
At midnight in the cold and frosty sky,
And where around The Overflow the reed beds sweep and sway
To the breezes, and the rolling plains are wide,
The man from Snowy River is a household word today,
And the stockmen tell the story of his ride.
Clancy of The Overflow
I had written him a letter which I had, for want of better
Knowledge, sent to where I met him down the Lachlan, years ago,
He was shearing when I knew him, so I sent the letter to him,
Just 'on spec' addressed as follows: 'Clancy of The Overflow'.
And an answer came directed in a writing unexpected,
(and I think the same was written with a thumbnail dipped in tar)
'Twas his shearing mate who wrote it, and verbatim I will quote it:
"Clancy's gone to Queensland droving, and we don't know where he are."
In my wild erratic fancy, visions came to me of Clancy
Gone a-droving 'down the Cooper' where the western drovers go
As the stock are slowly stringing, Clancy rides behind them singing,
For the drover's life has pleasures that the townfolk never know
And the bush hath friends to meet him, and their kindly voices greet him
In the murmur of the breezes and river on it's bars,
And he sees the vision splendid of the sunlit plains extended,
And at night the wondrous glory of the everlasting stars.
I am sitting in my dingy little office, where a stingy
Ray of sunlight struggles feebly down between the houses tall,
And the foetid air and gritty of the dusty, dirty city
Through the open window floating, spreads it's foulness over all.
And in place of lowing cattle, I can hear the fiendish rattle
Of the tramways and the buses making hurry down the street,
And the language uninviting of the gutter children fighting,
Comes fitfully and faintly through the ceaseless tramp of feet
And the hurrying people daunt me, and their pallid faces haunt me
As they shoulder one another in their rush and nervous haste,
With their eager eyes and greedy, and their stunted forms and weedy,
For townsfolk have no time to grow, they have no time to waste.
And I somehow rather fancy that I'd like to trade with Clancy,
Like to take a turn at droving where the seasons come and go,
While he faced the round eternal of the cashbook and the journal-
But I doubt he'd suit the office, Clancy, of 'The Overflow'.
Come-By-Chance
As I pondered very weary o'er a volume long and dreary --
For the plot was void of interest -- 'twas the Postal Guide, in fact,
There I learnt the true location, distance, size, and population
Of each township, town, and village in the radius of the Act.
And I learnt that Puckawidgee stands beside the Murrumbidgee,
And that Booleroi and Bumble get their letters twice a year,
Also that the post inspector, when he visited Collector,
Closed the office up instanter, and re-opened Dungalear.
But my languid mood forsook me, when I found a name that took me,
Quite by chance I came across it -- `Come-by-Chance' was what I read;
No location was assigned it, not a thing to help one find it,
Just an N which stood for northward, and the rest was all unsaid.
I shall leave my home, and forthward wander stoutly to the northward
Till I come by chance across it, and I'll straightway settle down,
For there can't be any hurry, nor the slightest cause for worry
Where the telegraph don't reach you nor the railways run to town.
And one's letters and exchanges come by chance across the ranges,
Where a wiry young Australian leads a pack-horse once a week,
And the good news grows by keeping, and you're spared the pain of weeping
Over bad news when the mailman drops the letters in the creek.
But I fear, and more's the pity, that there's really no such city,
For there's not a man can find it of the shrewdest folk I know,
`Come-by-chance', be sure it never means a land of fierce endeavour,
It is just the careless country where the dreamers only go.
Though we work and toil and hustle in our life of haste and bustle,
All that makes our life worth living comes unstriven for and free;
Man may weary and importune, but the fickle goddess Fortune
Deals him out his pain or pleasure, careless what his worth may be.
All the happy times entrancing, days of sport and nights of dancing,
Moonlit rides and stolen kisses, pouting lips and loving glance:
When you think of these be certain you have looked behind the curtain,
You have had the luck to linger just a while in `Come-by-chance'.